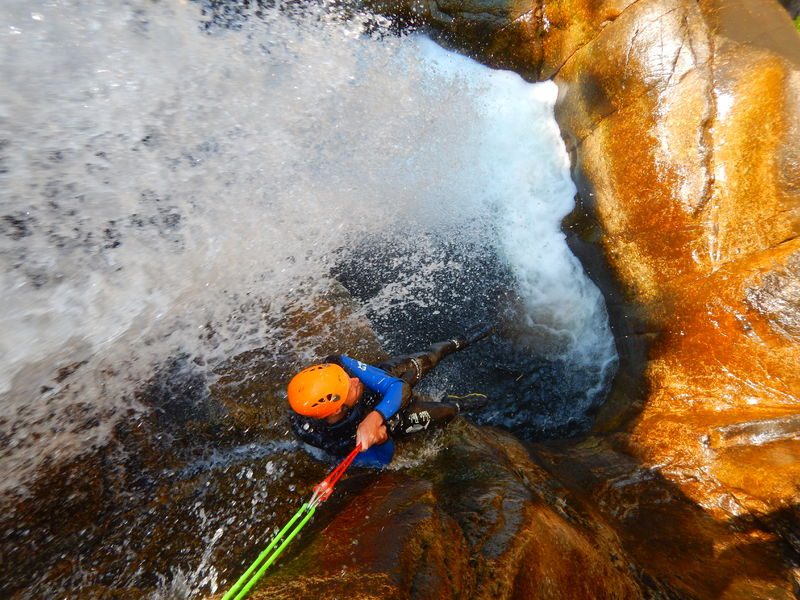 Sportif canyoning with Face Sud - La Garde
Description
Upper part of the unavoidable Haut Chassezac, this various trip will please sports people. This canyon is a combination of jumps between 2 and 7 meters and natural slides from 2 to 6 meters. The rope will be useful to pass the big waterfall. The good news is that the water is warmer than anywhere else !
Learn more
Address

Face Sud Multiactivités : canyoning, canoë-kayak, via cordata et via ferrata, spéléo, escalade, vélo électrique, VTT
89 allée des Cades
07150
Vallon-Pont-d'Arc

website Go to the website
Phone 04 75 87 27 23
Mail Write us
Opening

From 01/04 to 31/10, daily.
difficulty :
Sporting canyon that requires a good physical condition. No previous experience in canyoning is required.
From the age of 14.
Jumps information :
Important ! No jumps are compulsory and the instructor will never force you to jump.
Duration
3.5 hours for this half-day.

Walking time to get there :
25 minutes
Return walking time :
40 minutes
We supply :
Wetsuit (neoprene body suit in 2 pieces adapted to your measurement), 5 mm neoprene socks, plastic layer which allows better sliding conditions, helmet, backpack and watertight containers.
Option
To enhance adherence and a good ankle protection we offer rental canyoning shoes. Sizes available from the 32 (1,5 US) !
What to bring :
• Swimsuit
• Closed-toe shoes
• Bottle of water : 1 litre for 2/3 persons
• A snack : a cereal bar
• Participants wearing glasses : a cord not to lose them