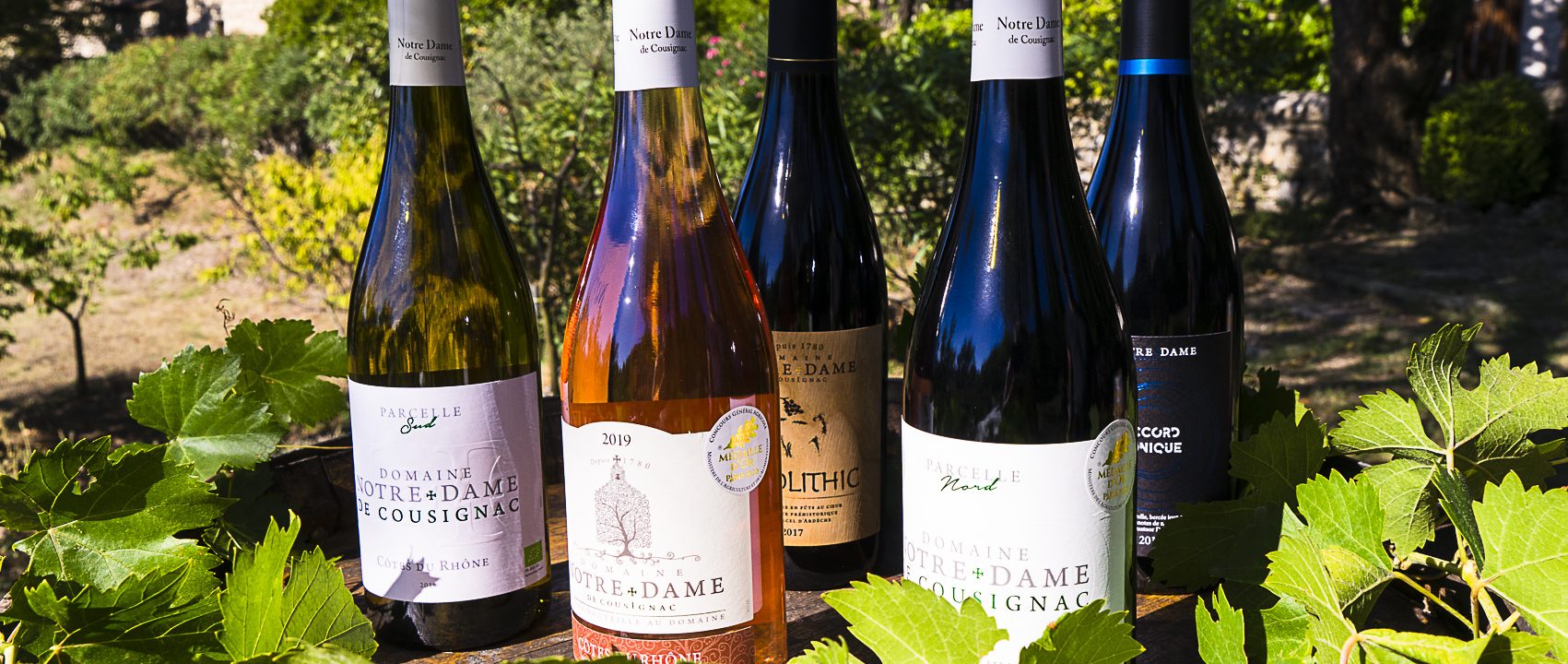 Domaine Notre Dame de Cousignac
Description
An organic-certified vineyard, bearing the High Environmental Value label, and member of the French National Biodiversity Observatory.
Top-quality AOC wines, with no added sulphites, to enjoy with friends, out on the terrace, at the estate's organic restaurant or while staying in our guestrooms in the summer.
Learn more
Address

Domaine Notre-Dame de Cousignac
150 Chemin de Campane
Quartier Cousignac
07700
Bourg-Saint-Andéol

website Go to the website
Phone 04 75 54 61 41
Mail Write us
Opening

From 21/11/2022 to 31/12/2023
on Monday, Tuesday, Wednesday, Thursday and Friday .
equipment & services
view equipment & services
Play area
Picnic area
Toilets
Camper van reception area
Reception room
Car park
Meeting room
Coach parking
Pets welcome
Motorhomes allowed
Accommodation
Booking obligatory
Shop
Wi-fi
Restaurant
Guided tours
Picnic hampers
Online shop
At the Domaine de Cousignac, hospitality is paramount!
Our passionate team will be there to welcome you, and take you on a gourmet experience:

- Tasting of our organic red, white and rosé wines: AOC Côtes du Rhône, Côtes du Rhône Village Saint Andéol, Côtes du Vivarais, PGI Ardèche. This tasting session can take place in the wine cellar during opening hours or with a prior booking, and can be combined with a tour of the storehouses and vineyard.

- Organic gourmet bistro-style meal out on the terrace: a simple, organic and seasonal menu, concocted with loving care and attention by Raphaël Pommier, the chef and winegrower. All dishes are perfectly paired with the estate's wines.

- Outings/activities/original visits: on the theme of the terroir and with our sporting, cultural and gourmet partners. Wine tourism combined with cycling, wine tourism combined with caving, yoga in the vineyards, etc. Check our Facebook page or Instagram account to find out more about these activities.