What are suspended gardens?
In Labeaume, you must go and admire the panoramic view over the Labeaume Gorges from the suspended gardens. These small terraced gardens built into the cliffs were created during the 18th century, and used until the middle of the 20th century. In bygone days, it wasn't easy to find land that was good enough to grow crops on, so farmers decided to build these small gardens in a very unusual place.
It wasn't an easy task! First, they had to build walls from dry stones over the sheer drop, and ensure they could keep the earth contained and grow crops here, in complete safety.
This challenge is what makes the suspended gardens of Labeaume so special today, along with their small size, uneven disposition and the fact they were built in stages.
Each plot of land can be accessed by steps, ramps and covered passageways.
Mainly tomatoes, peas, strawberries and vines were grown here, taking advantage of the perfect exposure from the cliffs!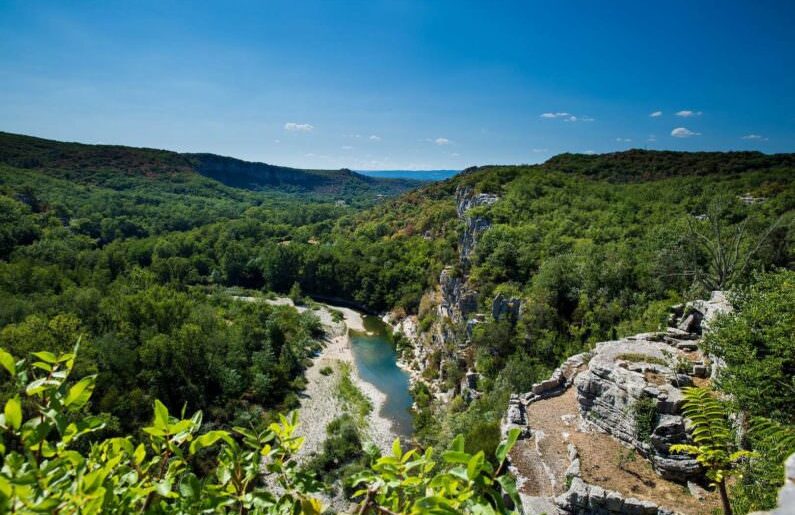 "

Look around you, it's superb!
From the suspended gardens of Récatadou, the view is breath-taking!
Down below, the Beaume river flows along the wild gorges.
To enjoy the view, park at the Récatadou community centre car park, on the right before arriving in Labeaume.
If you are willing to walk a little (we are not talking about a hiking expedition, just a short leisurely stroll on a stony path!), from the  Suspended Gardens you can head down to the Labeaume Gorges, and then why not walk to the village (1.2 km away) along a yellow and white marked footpath.
The beginning of the footpath is at the far side of the car park on the left.