The Via Rhôna green route
On the dedicated itinerary of ViaRhona, enjoy a safe bicycle ride ! On your own, with your beloved one or your family, the 16 kms of the stage between Viviers and Bourg-Saint-Andéol in Ardèche brings you to discover a remarquable nature and a well-preserved heritage. Sheltered by the tree's shadow, have a break in Southern Ardèche…
The ViaRhona itinerary, from Lake Geneva to Mediterranean Sea
ViaRhona is a cycle route of 815 km, still in progress, which connects Lake Geneva to the Mediterranean beaches. Built alongside or nearby the Rhône river, this bicyle itinerary is an original and relaxing way of discovering the natural and cultural treasures of the crossed areas.
Parted in sections and stages, the path contains routes completely dedicated to cyclists, perfect for a family stroll, by foot or by bike. For the most experimented cyclists, the ViaRhona route is also composed of shared paths with traditional roads. Still in progress on its southern part, the cycle route includes temporary stages as well.
The stage 16 between Viviers et Bourg-Saint-Andeol in Ardèche
Between nature and old stones, the stage between Viviers and Bourg-Saint-Andeol (and then Lapalud) is an invitation to dawdling. In Viviers, don't miss out the visit of the well-preserved city center and its remarquable cathedral. The departure of the stage is at the fluvial harbour : follow the signposting and go under the Rhône bridge (on a safe and dedicated cycle route). The itinerary continues on a shared path with cars for 3 kms. Furthermore, ViaRhona goes alongside Donzere defile, whose massive cliffs represent the boundary between continental and mediterranean climates. After the Robinet bridge, the cyclists arrive at Cite du Barrage. Don't hesitate to make a detour to explore Saint Montan, a picturesque village overlooked by its medieval restored castle. Then, go back to the cycle route in direction of Bourg-Saint-Andéol (shared road).
Follow your route until Lapalud by crossing the bridge in direction of Pierrelatte.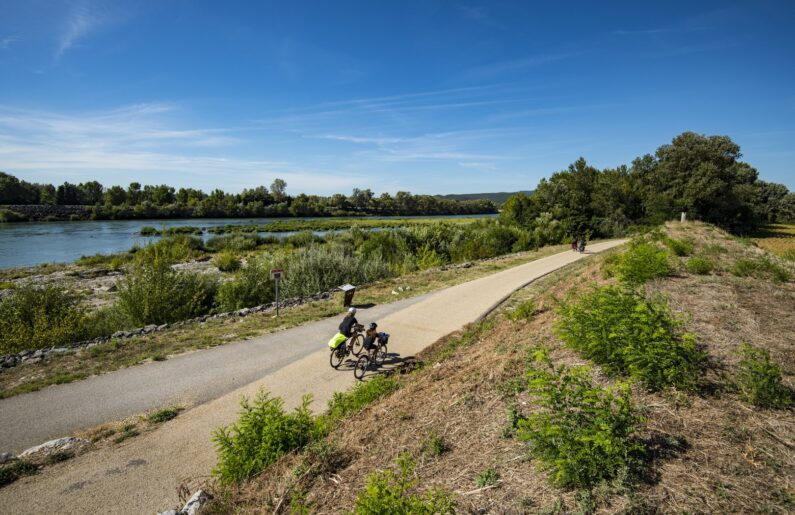 The ViaRhôna break area in Bourg-Saint-Andéol
Located near the town hall, along the quays leading to the bridge to Pierrelatte, the ViaRhôna break area has been specially designed for cyclists. On site you will find bike stalls where to safely leave your bike and your belongings, a charging station for your electric bike, a bicycle pump, a water point and a toilet.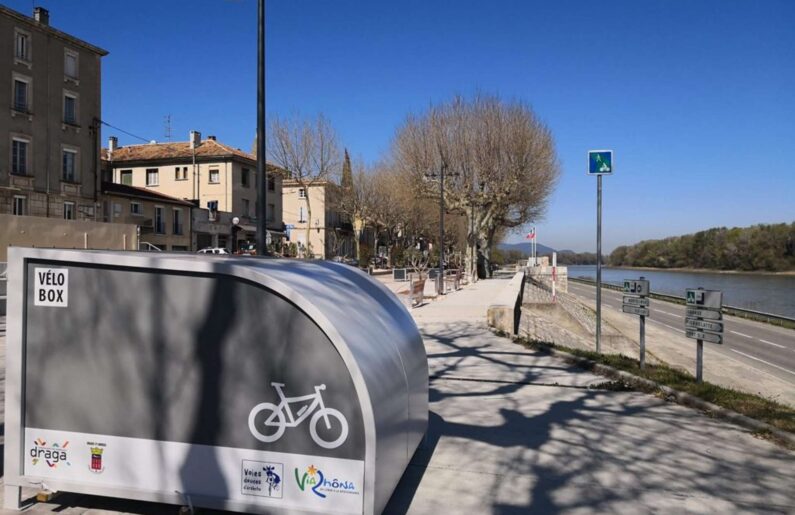 « Accueil vélo », accommodation and services for cyclistes
Because tourist travelling by bike need special services, and even more on itinerant journeys, a large choice of accommodations and shops are labellised « Accueil Vélo » in the area. They meet criterions :
• Be situated at a distance of less than 5 kms from an official cycle route (ViaRhôna, Ardèchoise, Grande Traversée de l'Ardèche )
• Having a closed and secured space to shelter bikes, with a repair kit at disposal
• Offering a range of food adapted to sportive practice and are available for an early departure
• Giving you access to a washing machine and a clothes dryer
• Allowing cars to be parked during a few days nearby or on the car park of the accommodation, for itinerant journeys