The Ardèche Gorges on foot
Hiking through the Ardèche Gorges is a magical experience
A wild and deep canyon. Sheer, steep cliffs. The river glistening in the rays of the sun. Along the 24 km of trails through the Ardèche Gorges, you will be amazed at every turn, over every rock, around every tree….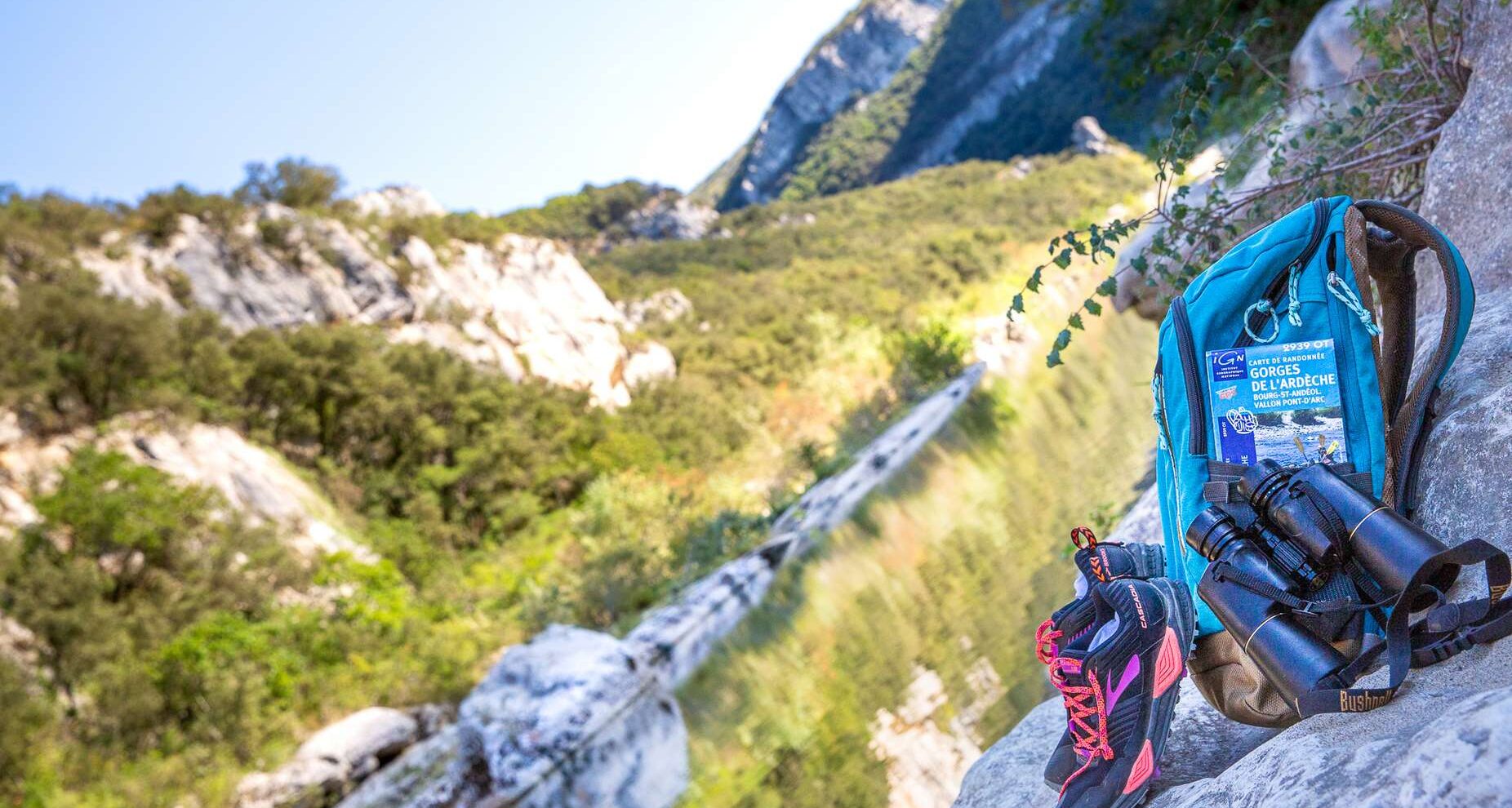 The trail around the Ardèche Gorges is made up of two sections of 12 km each.
The upstream section: from Pont du Tiourre, after the Pont d'Arc arch to Vallon-Pont-d'Arc, down to the Gournier bivouac campground. The downstream section: from the Gournier bivouac campground to Sauze beach, to Saint-Martin d'Ardèche.
This is quite a challenging hike, suitable for the more experienced walkers. It is quite a hilly route, with handrails, bridge crossings and a passage through a natural chimney formation, where you actually have to crawl to get out!
The bridge crossings over the river are only for the upstream section.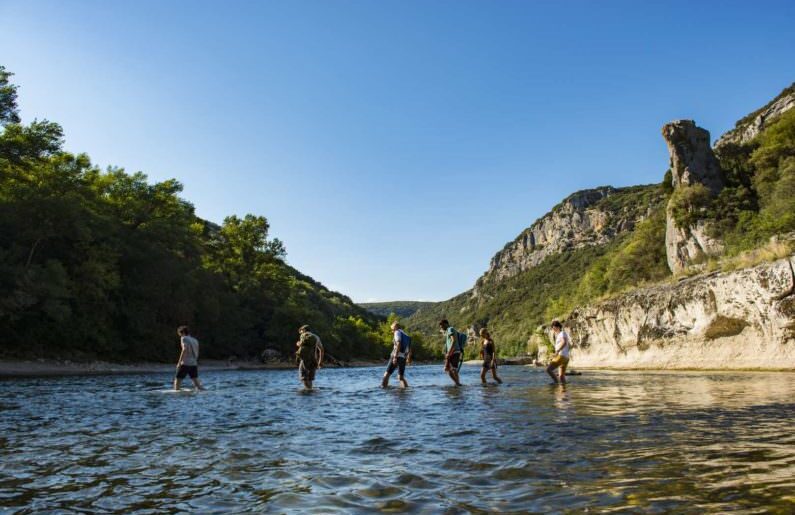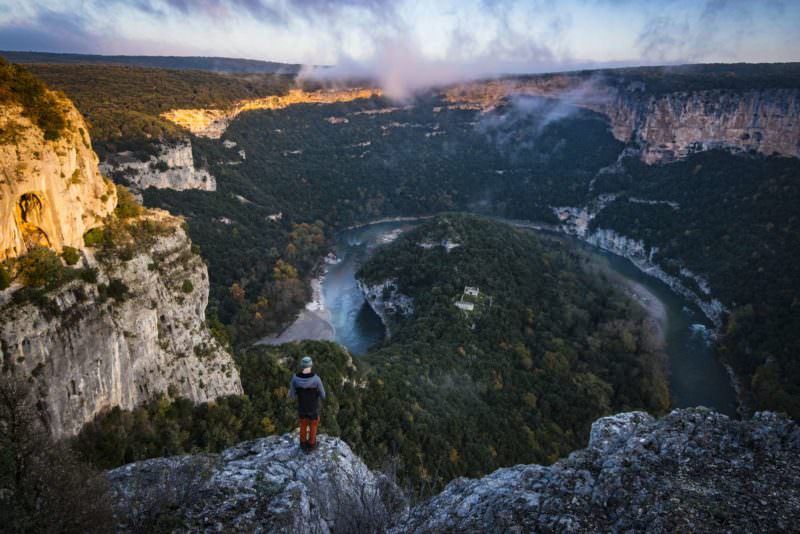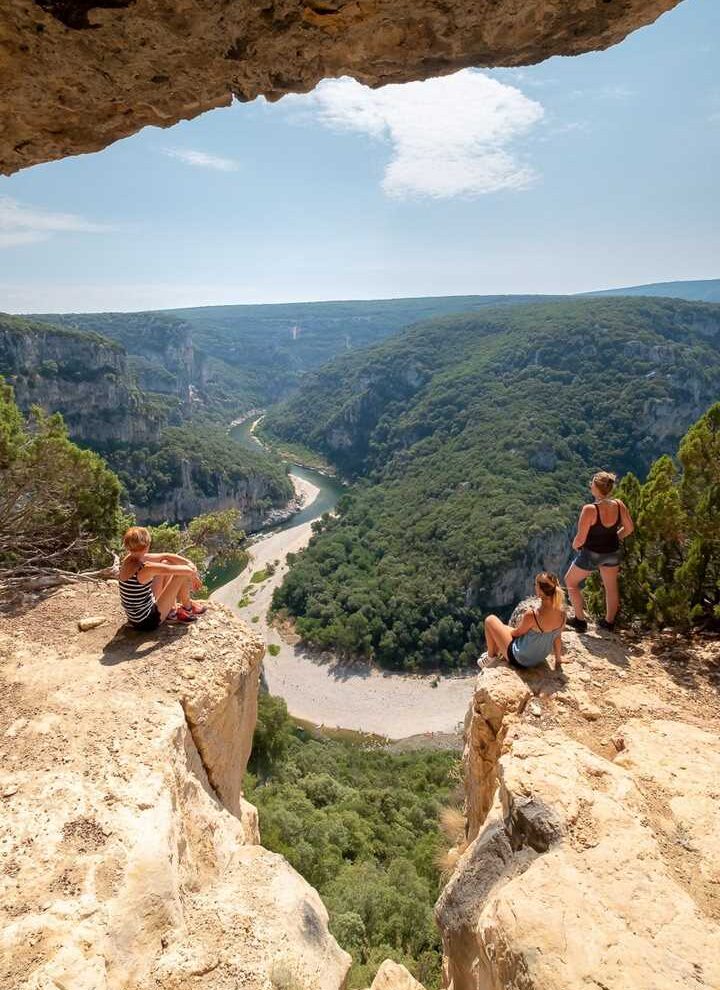 "

Breath-taking natural surroundings
"

Make sure you check the weather forecast before setting off.
Warning !
Be warned!
It is a one-way trail, not a loop! Therefore, you need to make sure you plan for a vehicle at the arrival location, or organise your return journey by shuttle bus
The upstream section is not possible all year round due to the 2 crossings over the river. Make sure you call for information before leaving on 00 33 4 75 88 00 41.
Practical information for hiking in the Gorges
– If you choose to do the whole trail (and we recommend you do), you will need to spend 2 days and 1 night in the Ardèche Gorges. You will be able to discover the pleasures of spending the night on a bivouac campground…
The Guidebook of the Ardèche Gorges is available for €8.50 at the 3 Pont d'Arc–Ardèche Tourist Office Information Centres in Ruoms, Vallon-Pont-d'Arc and Vogüé. Inside you will find a detailed and illustrated itinerary, as well as 8 other hiking trails around the Ardèche Gorges.
However, nothing is better than a guided and commented discovery, so don't hesitate to contact our professional guides! The guides of the Gorges are locals from the area, fully-qualified and committed to preserving their natural environment. They will be delighted to share with you their love for this beautiful place, and will have a lot of 100% authentic stories to tell!