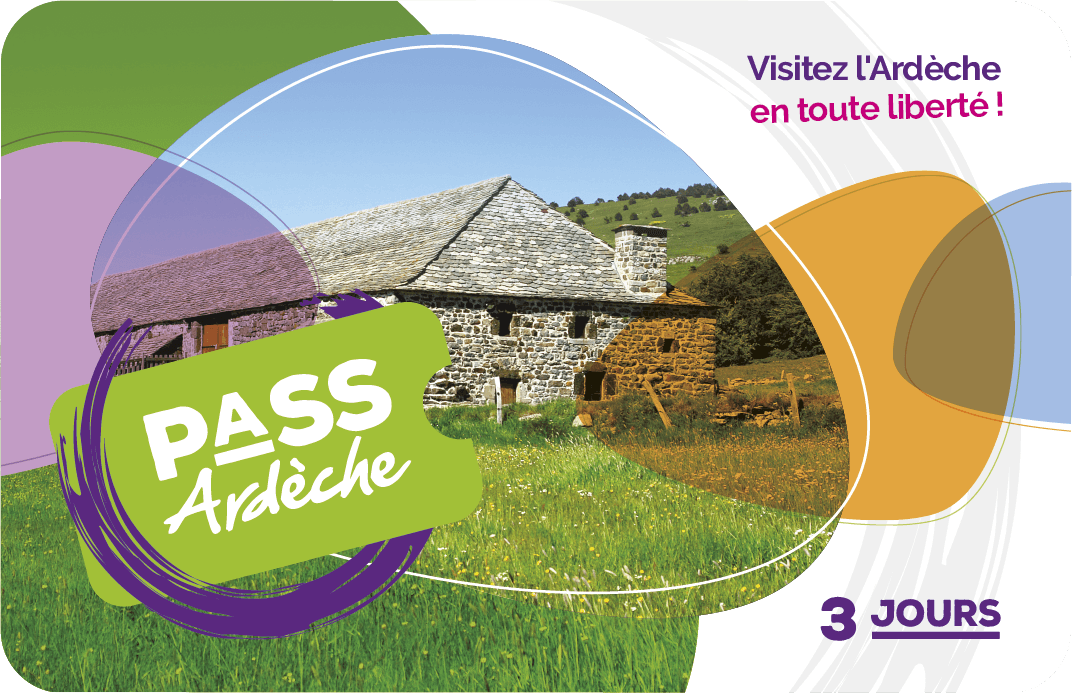 Description
Organize your program over 3 or 6 days and enjoy an access free of charge to the partner cultural and leisure sites of the operation.
Learn more
1 Pass'Ardèche 40 amazing experiences!

40 main museums and leisure attractions to discover Ardèche: wildlife parks, fabulous underworlds, tradition and territory, history and heritage...

Safari de Peaugres : reduction of 15%
Musée des Papeteries Canson et Montgolfier
Musée du Charronnage au car
Montgolfières & cie : reduction of 10€*
Train de l'Ardèche line Train des Gorges*
Château-musée de Tournon-sur-Rhône
La Cité du Chocolat Valrhona*
École du vent
L'Arche des Métiers
La maison du bijou
Site archéologique de Soyons
Jardin des Trains Ardéchois
Ardelaine
Ferme de Bourlatier
Écomusée du Moulinage
Maison Champanhet, Musée des savoir-faire ardéchois
Abbatiale Sainte Marie
Parc Animalier de Lussas
MuséAl, musée et site antique départemental d'Alba-la-Romaine
Musée de la Résistance et de la Déportation en Ardèche
Château de Vogüé
Muséum de l'Ardèche
Terra Cabra
Castanea, Espace découverte de la Châtaigne d'Ardèche
Mas Daudet
Néovinum - Vignerons Ardéchois
Melvita, visite d'usine*
Ver à soie Musée-Magnanerie
Mad Maze
Grotte Chauvet 2 - Ardèche*
Maison de la Lavande Producteur-Distillateur & Musée
Aven Marzal
Château des Roure
Parc Animalier des Gorges de l'Ardèche
Grotte de la Madeleine
Grotte Saint Marcel
Aven Grotte Forestière
Aven d'Orgnac Grand Site de France
Grotte de la Cocalière
Grotte de la Salamandre

* Be careful, upon reservation only.
In the Safari de Peaugres reduction of 15% on one day adult, child and disabled person regular tickets, in person at the desks.
At Montgolfières & cie reduction of 10€ on the cost of the flight (according to weather conditions and availabilities).
Train de l'Ardèche : line Train des Gorges (excluding other travels).

The Pass'Ardèche 3 and 6 days are accepted in sites involved until 31 december 2023.