Grospierres is a village with amazing discovery sites! A Vauclusian resurgence with turquoise water, an old hilltop village, an isolated chapel … To discover on foot!
The hamlet of Chastelas in Grospierres
Strolling among the old dwellings and the cobbled streets of Chastelas, surrounded by nature, is a journey out of time …
The ancient village of Grospierres, abandoned since the 19th century, is built on a rocky promontory and offers a spectacular panorama over the Chassezac valley.
A little better off, on the path, lost in the middle of the woods, the Notre Dame des Songes chapel tells a story that ends well! In fact, legend has it that it was built by the wife of a crusader, who having dreamed of her husband's death, swore to build a chapel if he came back alive.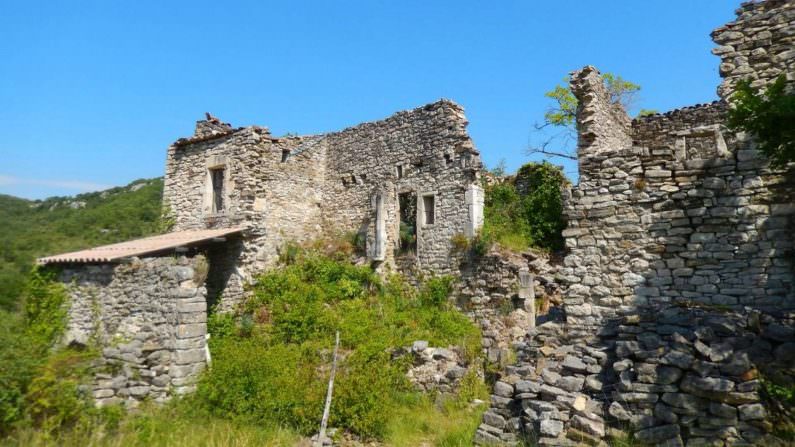 Start from the Cycle Path Via Ardèche
The Green Lane, called Via Ardèche, starts from Grospierres.
This varied route embellished with remarkable panoramas over the plains of South Ardèche, the Ardèche river and its tributaries, and the Cévennes mountains was carried out on the old railway line.
It currently has 25 km developed and secured to Vogüé.
Favorite: the resurgence of Font Vive
A green oasis with clear waters, hidden in the middle of the scrubland, at the bend of a path, isn't it a bit magical? This is what to expect when exploring the Vaucluse resurgence from Font Vive to Grospierres. 9 to 10 m deep, this spring that came out of nowhere still remains a mystery.
To get there, follow the signs "Font Vive" from the town hall of Grospierres. Drive about 2.5 km, and park in the car park. Continue on foot on the path after the barrier and walk along the small stream for about 15 minutes until the resurgence. You will find a detailed itinerary to discover these 3 sites, as well as 29 other beautiful walks, in the Hiking Topo-Guide on sale for € 8 at the 3 tourist information offices in Ruoms, Vallon Pont d´Arc and Vogüé