Labastide de Virac, a village to discover absolutely! You cannot fail to be seduced by this charming typical village of southern Ardèche with its majestic 15th century castle, and its many hiking trails leading to the Ardèche Gorges.
Le Château des Roure
A 15th century fortress, the The Roure Castle was built on the borders of Languedoc and Vivarais to monitor access to the Pont d´Arc. By visiting this very beautiful castle, you will discover the singular history of the wars of religion and the revolt of the Camisards. One of the many rooms in the building houses a silkworm farm, a living silkworm breeding farm, and the silk ecomuseum will allow you to understand the different stages of working with silk thread, from the cocoon to the fabric.
Finally, its recently restored rampart offers a superb 360 ° panoramic view.
For more information: 00 33 4 75 38 61 13
The picturesque old center
On its rocky peak, the charming village of Labastide-de-Virac is worth a detour. Its old houses weathered by time, its steep cobbled streets, its ancestral doors, its sundials, its temple are worth a glance.
The monument erected in memory of the martyrs of the hamlet of Crottes, recounts a tragic moment of the last world war.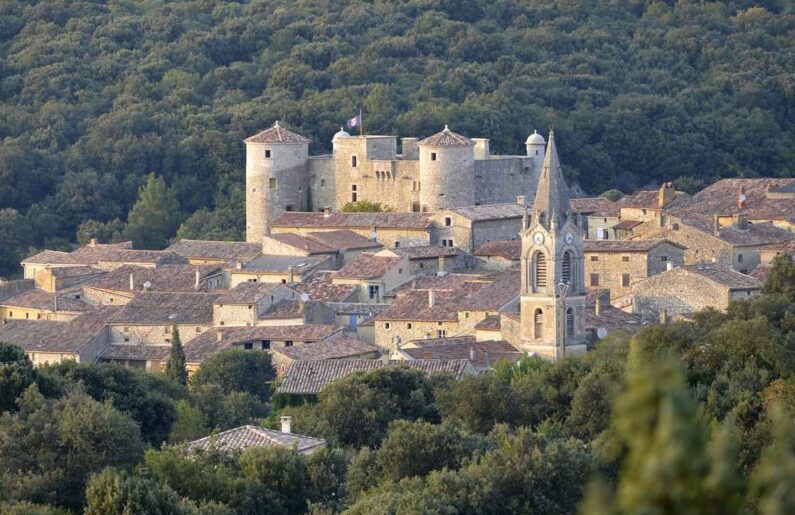 Sportsmen's playground
The territory of the village extends along the right bank of the Ardèche (up to the Pont d'Arc) and the 2,400 hectares, a large part of which is wooded with white oaks and holm oaks, constitute an ideal playground for hikers and mountain bikers who love large, unspoiled natural spaces.
Many circuits departing from the village are signposted, in particular the beautiful loop of the Saleyron rocks with remarkable panoramas of the Ardèche Gorges.
Favorite: the Gué de Guitard in the heart of the Ardèche Gorges
If trudging for 30 to 45 minutes doesn't scare you, then follow our advice, you won't be disappointed!
From the place called Mas du Serret (near the 1000-star campsite), a path leads to the river in the Ardèche Gorges
During this sometimes delicate descent, you will cross a forest with a very special atmosphere: the vegetal moss covering the oaks gives instead magical airs!
Once at the water's edge, go up towards the ford of Guitard rapids with its spectacular wave: splashing guaranteed for canoeists!
Going up the river a little further, you can admire the meander of Gaud, the cliffs of the Cirque de Gaud, as well as the Rocher d'Autridge and its vertiginous cliffs.
"

In the heart of the Ardèche Gorges!